Dames and Dreams
Exploitation | 96 Minutes | MATURE | $25.00 + Shipping
The men are pawns and the women only look innocent! …Four wild, willing and wanton ladies are read their fortunes at a swinging ´70s Hollywood revel. They tangle in every way with cons, cheats and corrupt cops, brandishing sex as their weapon. When reality ends, their bared fantasies are just beginning. Hot girls and supercool '70s backdrops erupt in an orgy of danger and sexual intrigue in this lost exploitation artifact, unseen in and now fully restored after nearly half a century.
Dames and Dreams is (was) nearly a completely lost 70s exploitation sex-and-crime saga starring George "Buck" Flower (from John Carpenter's films)! The original film elements were discovered and returned to the film's producer and cinematographer, film vet Jacques Descent, in 2017. Jack, who ran a studio lab in Hollywood (interiors for Dames & Dreams were shot there) and produced close the 50 films, formed DéJà VUE Films to finally complete Dames & Dreams after its near-half-century in oblivion.
Directed by: Harry Sahn. Starring: Serena Jenn Gillian, Marjorie Lanier, April Showers, Brandi Saunders, George "Buck" Flower.
SPECIAL FEATURES:
Brand New Audio Commentary from the co-producers/restoration team
In-Camera Production Footage, shot in Griffith Park in L.A. (1974)
Extra/Uncut scenes featuring "Serena" Gillian and Marjorie Lanier.
RENT AND STREAM THIS TITLE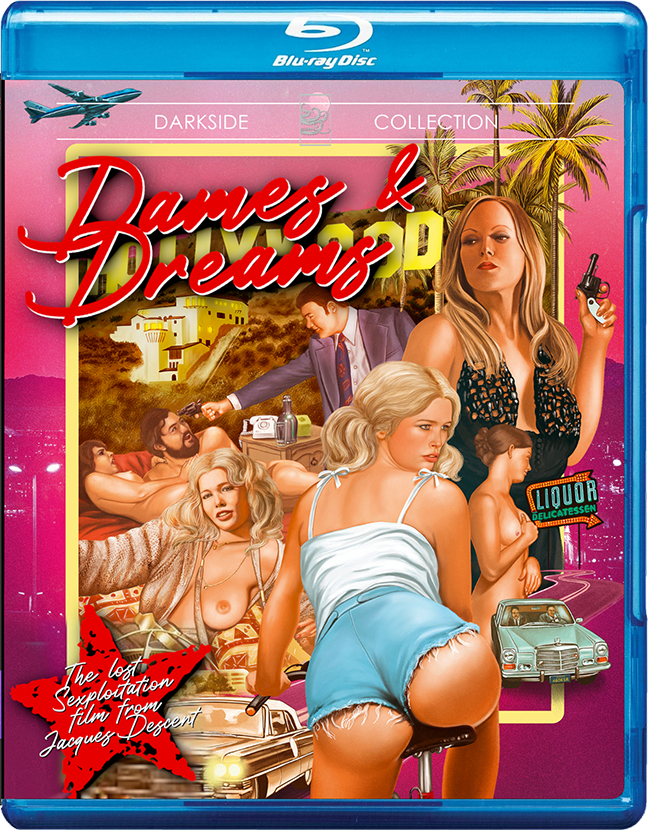 ALSO AVAILABLE ON BLU-RAY