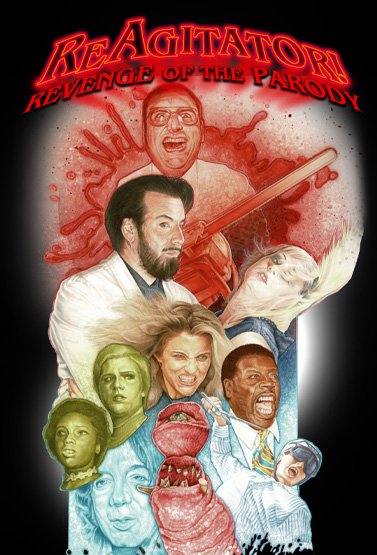 Re-Agitator: Revenge of the Parody – SYNOPSIS:
Goth superstar Aurelio Voltaire is Verum and original gangsta rapper Schooly-D is The President in this cult camp catastrophe. In this send-up of the horror genre, a beautiful aristocrat (Amanda Flowers) is resurrected by mad doctor Orbert Wescraft (Jurgen Azazel Munster) at the request of her obsessed husband (Rock N Roll legend Alan Merrill). When she rebels against the Doctor and joins a cult of the undead, it's pandemonium as the sinister creatures resurrect a giant monster to destroy all mortals. Will two wacky journalists (Yolpie Kaiser, Mickala McFarlane) a mad teenage girl bent on revenge (Sofe Cote), and a perma-tripping boy genius (Max Husten) be able to save the world in time?
Re-Agitator: Revenge of the Parody – REVIEW
Written by VHS
Re-Agitator: Revenge of the Parody is a wild ride. It's random, funny, and captures a unique snapshot of the NYC underground film scene. Every scene of this movie offers up something interesting and Dylan Mars Greenberg did an amazing job of creating a random comedy that lands somewhere between an art-house flick and a SOV movie from the 90s. These styles meld together for a perfect blend of art and humor without thaking itself too serious.
Rent this movie if you like:
Parody – off the wall comedy – art-house flicks