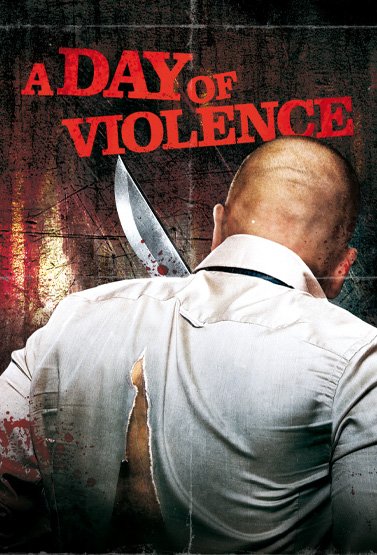 A DAY OF VIOLENCE SYNOPSIS:
Mitchell Parker lies dead on a slab in the morgue. But before this, Mitchell served as a debt collector for all the filth and scum that the city had to offer. And when he stumbled across $100,000 in cash hidden in the sofa of one of his "clients", a journey of redemption is kicked off, inevitably careening through violence and sacrifice. Hunted by the gang whose money he's stolen., Mitchell races to evade capture while trying to rid himself of his demons once and for all.
A DAY OF VIOLENCE: REVIEW
Written by VHS
Darren Ward makes violent films. He uses a combination of practical effects,  blood/gore, and no pulled punches to achive this. The effects used in Darren's films are impressive and will leave the most seasoned of extreme film buffs amazed at the execution. "A Day of Violence" is no exception and features one of the best shotgun murders I have ever seen in a movie. The film is an entertaining trip through the underbelly of the UK crime world. It follows Mitchell (Nick Rendell) who is a low-level debt collector. When he discovers $100,000 in cash collecting for one of his clients, he sees an opportunity to get out once and for all. Only problem is that money belonged to one of the most dangerous men in the UK and he knows Mitchell took the money.
Darren has made a few ultra-violent flicks that I really love. I hope that he makes more in the future but as of now it looks pretty bleak. If IMDB is correct he made his last film "Beyond Fury" in 2019 and has nothing in the works as of writing this review. I do hope that changes and have been looking online for Darren so that I could see if he was working on anything new. Would be a shame to lose a filmmaker with this much potential this early in his career.
Rent this movie if you like:
VIOLENT MOVIES – CRIME THRILLERS – PRACTICAL EFFECTS – FILMS SET IN THE uk