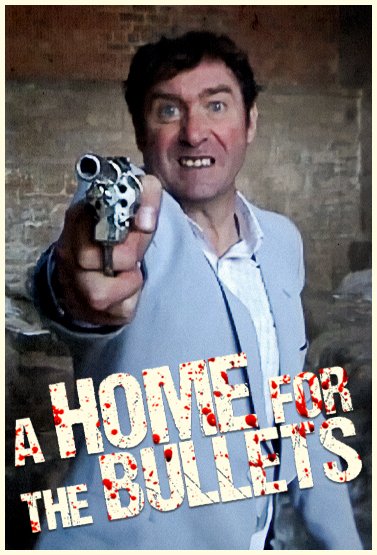 A Home For The Bullets SYNOPSIS:
"A Home for the Bullets" is a tale of revenge set in the crime-ridden underbelly of Newcastle. After his family is brutally murdered, Axel Falcon, a man with nothing to lose, embarks on a relentless quest for vengeance. Guided by mysterious clues left by an unknown assassin, Axel battles his way through the criminal empire led by Davro, the man responsible for his loved ones' tragic fate.

A Home for the Bullets: REVIEW
Written by Video Bot
Prepare for a wild and hilarious ride with "A Home for the Bullets," a bizarre action comedy that delivers outrageous moments like no other. From start to finish, this film had me in stitches with its clever humor and over-the-top antics. Director S.N. Sibley is a master at the absurd and it really shines in this flick.
One of the standout aspects of "A Home for the Bullets" is its ability to push boundaries and surprise the audience at every turn. The film embraces its absurdity, unleashing some of the most outrageous moments I have ever witnessed on screen. It's a refreshing departure from conventional storytelling, injecting a refreshing dose of irreverence and unpredictability.
Ken Mood's portrayal of Axel Falcon is an absolute delight. He brings a charismatic and magnetic presence to the screen. He takes a lot of risks, and has a good time doing it. Mood's performance leaves a lasting impression. I hope to see him in more films in the future.
In summary, "A Home for the Bullets" is an uproarious and eccentric action comedy that will leave you entertained from beginning to end. With its clever humor, outrageous moments, and the charismatic performance by Ken Mood, it is a must-watch for fans of offbeat cinema. Brace yourself for a one-of-a-kind cinematic experience that will have you laughing out loud and eagerly anticipating what S.N. Sibley and the talented cast have in store for us next.
Rent this movie if you like:
Bizzare Films – Nightmare Comedy