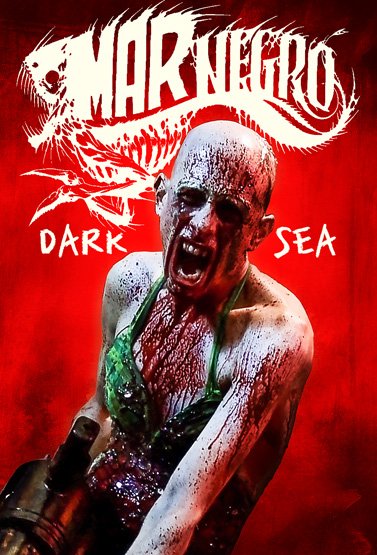 DARK SEA SYNOPSIS:
In this horror festival hit, a strange contamination strikes a fisherman's village, causing the fish and shellfish to mustate into creatures of insatiable blooslust, death, and wanton destruction. The lone Albino risks his life and his soul for the love of his life in a desperate fight for survival against the rampaging creatures in this over-the-top homage to Roger Corman's Humanoids from the Deep.
DARK SEA: REVIEW
Written by VHS
Two down on their luck fisherman end up netting a large sea creature that they call a mermaid. The creature appears to be dead but after further inspection it springs to life attacking the captain of the ship. After a hard fight the captain and first mate are able to expel the creature from the fishing boat and escape with their lives. What they didn't realize is that the creature was infected with something that turns humans into uncontrollable zombie like maniacs, whose thirst for flesh can only be conquered by death.
"Dark Sea" is an amazing horror flick by Brazilian filmmaker Rodrigo Aragão. This film has it all action, gore, practical effects, zombies, and even a fish monster. Rodrigo's choice of using practical effects for an entire monster is very brave as there have been so many great movies in the horror genre that have been killed using "party city" monster costumes. I can say without a doubt that this was not the case in "Dark Sea". The monster looks real, it moves real, and most important of all is that it feels like you are looking at a real sea creature. Rodrigo's background brings a level of realism to this movie that I really appreciated. The small fishing village in which the film takes place feels authentic, filled with culture, and real people.  The use of action in this horror movie really pays off for me. I love action in movies and have always felt that any film that lacks action is slow. "Dark Sea" does not lack in the action department.
Rent this movie if you like:
VIOLENT MOVIES  –  PRACTICAL EFFECTS  –  MONSTER MOVIES  –  ZOMBIE MOVIES